| | | | |
| --- | --- | --- | --- |
| Students meeting with Michelle Rogers, painter of "ECO Primavera" | | | |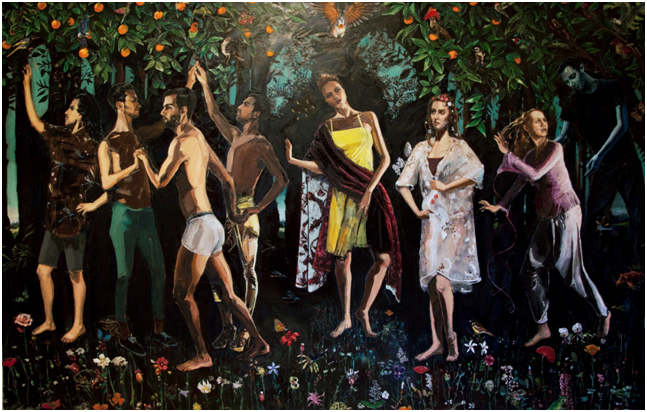 "ECO Primavera"
with 100 Endangered Species
by Irish painter Michelle Rogers
  
Opening May 10 at 6pm
VIU students are invited to meet with the Irish painter Michelle Rogers, whose work "ECO Primavera" will be displayed at St. George's Anglican Church for four days.
The meeting is part of VIU new education path on Arts and Sciences, to offer, through art, a reflection on sustainability science, as one of today's global challenges.
Michelle Roger's "ECO-Primavera" is a large-scale painting that incorporates more than one hundred small threatened and endangered species of insects, frogs, birds, and flowers as an environmental homage to Italian painter Sandro Botticelli. "ECO Primavera" is the same size as the Botticelli original. "Botticelli adored nature and painted over one hundred flowers in his own 'Primavera'," the artist explains. "Historically we paint things that are important, and for me recording endangered species is a way of preserving them, giving them recognition so they won't disappear completely."
The painting will be on display from May 10 to 13, 11am–6pm daily.
St. George's Anglican Church, Campo San Vio, Dorsoduro, Venice
(between the Accademia Gallery and the Peggy Guggenheim Museum - see also www.stgeorgesvenice.com)